Validity Search

Discover Prior Art To Support Litigation
Patent Invalidation search deals with thorough analysis of all reference documents prior to the filing of the granted patent. The process involves identifying relevant prior art documents to invalidate the granted Patent. Patent Invalidation is generally used as a defensive tool in most cases, when a company is concerned about infringement of a particular patent. There are several scenarios for which a defense is sought out for.
In some cases if a patent infringe is being threatened in any form, the infringe may opt for invalidation in order to overcome the damages imposed on the infringe. In another case, a patent owner may refuse to license the patent for several reasons, and a third party seeking the license may aim to invalidate the patent in order to utilize the invention. There are several scenarios that lead to the need of an Invalidation Search.
Through an invalidity patent search we attempt to uncover issued patents or other published prior art that may cause a patent to be partially or completely invalid. The patent invalidation search is conducted to limit the scope of the patent in question and may cause a granted patent to be invalid. We also use a strict timeline in invalidity searches as prior art documents that are dated before the filing date of the patent in question are searched.
Validity Search uncovers patents or other prior art, published before the earliest priority date of the target patent, which might render a granted patent invalid.
To invalidate a patent claim(s), our team searches for prior publication, prior public knowledge or working, no inventive step, and insufficiency of disclosure, among other grounds. Always working under the guidance of global patent litigation and prosecution-experienced attorneys, the team identifies prior art evidence against each claim element. We access high-end university libraries in addition to our extensive database coverage to yield targeted search results.
We at IIPTA perform Invalidity/Validity Searches in cases where our clients need to defend their case with respect to infringement, licensing or any other scenario. We also conduct Validity Searches which help clients during Merger and Acquisitions, licensing or valuation.
How is an Invalidity Search Report formulated?
Most invalidation reports consist of a claim mapping chart which is a comprehensive techno-legal analysis of mapping one or more claims of the patent to a particular product feature, or a technical description or a scientific technical document. Our claim mapping involves the process of assessing each and every independent claim, and mapping the elements of the independent claim to the prior art documents.
Once the independent claims are thoroughly mapped, we also move towards mapping some of the relevant dependent claims and in some specialized cases, and we also map the whole patent which includes the diagrams and description. Non-patent literature which may include journals, or technical documents are also analyzed to assess the presence of any relevant prior art documents.
We strategize our searches and reports based on the reason for invalidation of patent. Each invalidation case is processed using the most applicable strategy and a patent may be invalidated based on several aspects. Some of the grounds of invalidation may include:
Inconsistency of content within the patent document

Claiming for subject matter that is present in the prior art

Getting a grant for an invention that does not satisfy all the eligibility criteria

Presence of false information in the patent

Claims do not completely describe the invention

There is absence of complete disclosure of the invention
A validity search is a search that is determined by the selected claims of an issued patent. Validity searches might be required for a number of reasons. Sometimes, the validity of a patent is brought up during litigation. Oftentimes, a validity search is requested even when no lawsuit has been filed, to identify potential attackers and/or references that challenge the presumption of validity of a subject patent.
In some cases such as a Merger or Acquisition, or Licensing of a Patent portfolio, a Patent Validity Search is conducted in order to understand the strength and validity of the patent or portfolio. A Validity Search may also be conducted in cases of IP Due Diligence. When a company may be interested in acquiring another company, and the patents form a part of the main assets of the company, a Patent Validity Search is conducted to evaluate the patents of the company, and in turn the overall valuation of the company.
The process that we follow for our Patent search projects involves a searching team of 3 to 4 people discussing each case in detail, to strategic a plan of action for the search. The search is then conducted on both paid and unpaid sources to get the closest matching prior art document. We then review and analyze the results to categorize the relevance and then provide a detailed report.
This report is then assessed by our analysts to check for the quality and relevance and a viable conclusion is presented in the report. We have performed numerous Invalidity/Validity Searches incorporating the relevant strategy required by our client.
Patent Portfolio : Novozymes
In this report, You'll Learn:
Patent filing trend by company
What are the major areas of research and development?
Types of patents filed
Focus areas of Research and Development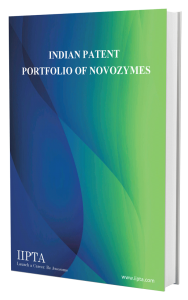 What do we need from you?
Patent Number and earliest priority date for the target patent.

Specific claims you would like to invalidate.

Any known related art (Often the results of earlier searches).

Any additional information regarding litigation that could help guide the search strategy.