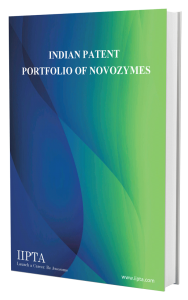 Novozymes is a global biotechnology company headquartered in Bagsværd outside of Copenhagen, Denmark.The company's focus is the research, development and production of industrial enzymes, microorganisms, and biopharmaceutical ingredients. As of 2013, the company holds an estimated 48% of the global enzyme market, making it the world's largest producer of industrial enzymes
We have analyzed patents filed by Novozymes in India.
In this report, You'll Learn:
Patent filing trend by company
What are the major areas of research and development?
Types of patents filed
Focus areas of Research and Development
Download Patent Portfolio of Novozymes now!