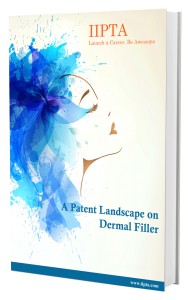 The demand of dermal filler has become global. A technology landscape analysis on dermal filler is conducted to find out the recent technology trend of the dermal filler and the future research scopes on the said field.
Several patents on dermal fillers are retrieved from the USPTO, WIPO, EPO, Patent Lens databases and analyzed on the basis of bibliographic and technical data. The analysis includes the bibliographic and technical analysis. The bibliographic analysis incorporates patenting activities over time, the patent distribution with in International Patent Classification, and patent analysis on the basis of applicants/assignees.
The applications of the inventions, new products with compositions, and process involved within the dermal filler research arena are mind mapped. It is found that the first invention on the said field was taken place in 1980 and highest number of inventions were filed in 2006. United States is the leading country for the dermal filler though each of Korea, Japan, and Italy share moderate contributions to the global dermal filler market.
Download Patent Landscape of Dermal Fillers now!