A giant flying warehouse of Amazon gets its patent filed which is responsible for the lightning fast delivery of parcels from the the warehouse by the help of drones carrying the parcel to the customers for fulfillment of multiple orders within a very short period of time which is more convenient and less time consuming process.
What is AFC ?
The AFC stands for "Air Fulfillment Center" which is a kind of airship or may be a blimp that will have to generally float on an altitude of 45,000 m and it will be loaded with products and the parcel to be delivered by the help of the drones carrying them to the customers on time without any time delay.  
What is UAV ?
The UAV stands for "Unmanned Aerial Vehicles" which is responsible for carrying the parcel to the customer from the flying warehouse. It would be a very low power costing aspect as because from coming down from a certain height is more convenient rather to take-off from the ground level, so it might act as more useful drone to reach the packages in no time to the customers.
According to the statement filed by Amazon as a patent, says that- "When the UAV departs the AFC, it may descend from the high altitude of the AFC using little or no power other than to guide the UAV towards its delivery destination and/or to stabilize the UAV as it descends". Like for example- in a football match when some products are needed by the players playing in the match could be easily provided by this amazon drone very easily within minutes and also airship could also be used as a giant advertising board, allowing customers to order the items on display.
The drones have the capability to transmit communication between them and also gives information such as weather  and route. Amazon also gives its verdict that the blimp stays back in the air and be refueled and replenished using another shuttle, which could be a small aircraft capable of docking onto AFCs and uploading product as well as fuel very easily and conveniently. For this fulfillment Amazon has to overcome regulatory approval from aviation authorities which might not be easy for the company.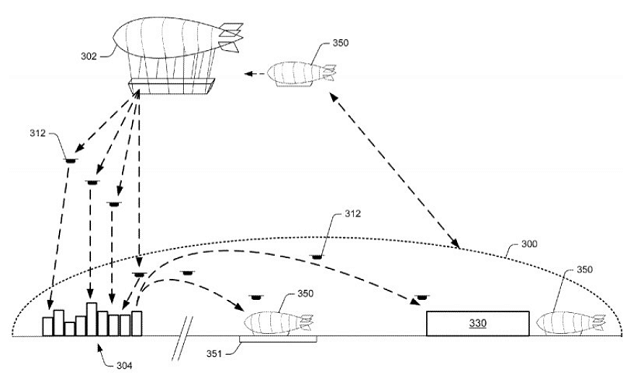 Conclusion 
Amazon has previously reported more files on drones deliver where it showed the ideas of turning the lampposts or churches or even tall buildings , into docking stations for drones recharge while another patent discussed about the communication between the drones for route mapping. However the company gave the first trial of delivery in U.K. but these are just the mere ideas given by Amazon which has yet to come through reality. For better explanation the following picture is been shown –