Landscape Analysis

Discover New IP Opportunities
To identify white space for decision making around R&D or IP monetization, we employ a proven patent mapping/ landscaping solution as part of our IP Analytics. IIPTA's technology analysis service will monitor your competitors and identify potential partners and other companies of interest. We also support our analysis with data from secondary research—all to help you formulate business strategies that keep you ahead of the competition. Our Next Generation IP analytics tools offer several ways to review and evaluate data on the fly.
A Technology Landscape requires specific skills in order to identify relevant information which may differ from technology to technology and from client to client.
Our Landscaping Team has several hours of experience and in an array of subject domains such as mechanical, chemical, electrical, electronics, telecommunication, civil, metallurgy, computer science, IT, Software, Aeronautical, etc. Our team uses specific strategies to bring out the best landscape reports.
Patent landscape report provides an insight towards patent situation of specific technology either within a given country or globally.
Our team can design a Patent Landscape report that provides executives, technologists, and investors with IP business intelligence about how and to what extent your competitors are protecting their innovations in critical areas of technology.
We start with a broad patent landscape and progressively refine the analytics at several levels of detail. This value-rich perspective provides the actionable insight you need to support strategic business and investment decisions and strengthen your patent portfolio.
A landscape report covers an overview of patent activity in a field of technology. Some of the main aspects covered by our team includes identifying the right subject domain of interest, analyzing the patent portfolios of relevant competitors, analyzing patent portfolios of relevant companies, compiling the data and conducting a thorough competitive analysis.
The data generated by our team is always enormous, and we incorporate certain time tested strategies to identify the most relevant details. The process involves narrowing down to specific fields, identifying the functional and structural elements of the patents, segregating them based on the IPC classification and then analyzing the data keeping in mind the requirements of the landscape report.
The tools that our team use are highly advanced, one of which is Questel Orbit's Patent Analytics tool. Our team also uses other organizational tools which help in sorting out the collected data in a uniform pattern in order to identify the relevant data. It is important to note that Landscape studies are quite challenging as the data collected is enormous and it takes a lot of expertise to bring out a good report.
The reports generated are not always straightforward, and are not always specifically conclusive as the patent field has a lot of data that is not accessibility to the public at a given time. It is always important to keep in mind that a Landscape Analysis is specific to the time period at which the report was generated. Our team also encourages the clients to be extremely co-operative in order to get the best results out of the Landscape study.
Patent Landscape : Biophotonics
In this report, You'll Learn:
The innovation in Biophotonics technology is today's need as there is a huge growing demand in portable, cost effective diagnostics and imaging application of biophotonics.A landscape report is prepared on biophotonics technology.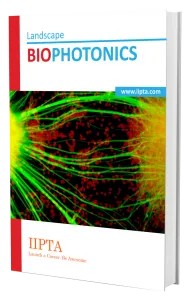 What do we need from you?
Your aim, well-defined objective.

The data which includes past and present status of the technology in corresponding market, its future insight, associated IP information, competitive intelligence, as well as technology transfer.

List of known competitors performing in your market area.

Where do you want to launch your product, that is, at national level or global level?