Top Tech Analyst Jobs For Engineer Guidebook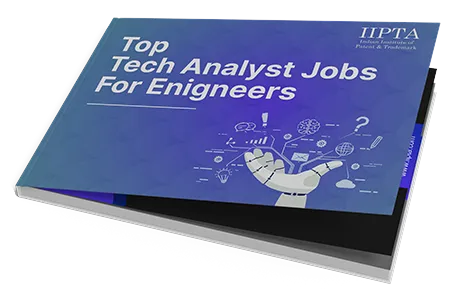 Job Oriented Patent Analyst Training
Engineers are involved in numerous things as part of the role. With a keen eye for problem-solving through the production of mechanical equipment engineers will need to understand materials, costs, the importance of time management and deadlines as well as provide logical solutions. From this point of view, engineers could be involved in the design, research, analysis, testing, liaising with suppliers, understanding & reporting on technical issues, and hands-on production. To know more, download this free report today to discover the flexibilities of an IP career.
Everything You Need To Get Started As
A Patent Engineer
3 Pillars Of Succes

Skills You Should Have

Career As A Patent Engineer

Work Of A Patent Engineer

Skills Required To Be A Patent Engineer

Area Of Interest

Career Growth

30 Top Tech Companies

12 Top Profiles

Top Kpo, Law, And Ip Firms

Top Companies And Their Cities
Want To Start A Career As A Patent Analyst?
Become Job Ready In Just 90 Days.
Look No Further
According to the survey, India will hire roughly 8.3 lakh engineers with IP (Intellectual Property) skills between 2019 and 2025. As a Patent Analyst, Engineering gives you an advantage over other IP authorities by allowing you to better understand and analyze an innovation, allowing you to assist your client by partnering with R&D and patenting the invention or technique more effectively. Unfortunately, there aren't enough engineers competent in doing IP work in the industry. Working as a patent analyst is a fantastic opportunity for an engineer.
By becoming a patent engineer, you will be able to work in an office setting without having to use any engineering tools or do any heavy lifting while still being able to pursue your passion for engineering, design, and new technology.
As a patent engineer, you'll be responsible for IP creation, protection, and management. The patent engineer must comprehend the invention and identify all prior technology that is already known to the public and is related to the invention. A patent engineer must also design and apply for the patent, as well as persuade the patent office to grant the invention a patent. In the innovation industry, patent engineers are frequently seen. Inventors and patent engineers play a significant role in these companies.
That's why JOPAT and IIPTA have paired up to bring you this guide, where we look at all of the steps to get started as a patent analyst in the IP industry. From what it takes to become a patent professional to top job profiles and companies of intellectual property. Last but not least, you will learn how to become successful to prove your efforts are worthwhile.
Frequently Asked Questions
(FAQs)