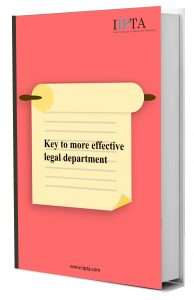 This eBook analyzes how legal departments are adapting by keeping work in-house, particularly with certain tasks related to contracts, intellectual property, mergers and acquisitions, and litigation. It also explores how in-house leaders are implementing changes both within the department, such as using legal department operations professionals, and outside the department, such as changing how they partner with outside counsel. To know more, download this free report today to discover the flexibilities of an IP career.
In this report, you will learn:
Top Ten Metrics That Your Legal Department Should Be Tracking
What makes a good law firm, or a good law firm great?
Other ideas how good staff can make a good law firm
16 Characteristics Present in Most Financially and Professionally Successful Law Firms
What Does 30 Minutes Mean to You? Best Practices for Efficient Legal Department Management?
Best practices for finding 30 extra minutes
Build your career in IPR, by downloading the free report now !