We so remember the auto-adjusting jackets and power-lacing shoe in back to the future. Well apple is applying same logic to watch bands based on new patent company was recently granted. As reported by AppleInsider, the patent is entitled to "Dynamic fit adjustment for wearable electronic devices". If Apple delivers on what the patent promises it means the future Apple watchband will self adjust to fit your wrist. There will be no fastener, you simply slide it over your wrist. There will be no fastener you simply slide it over your wrist and watch does the rest.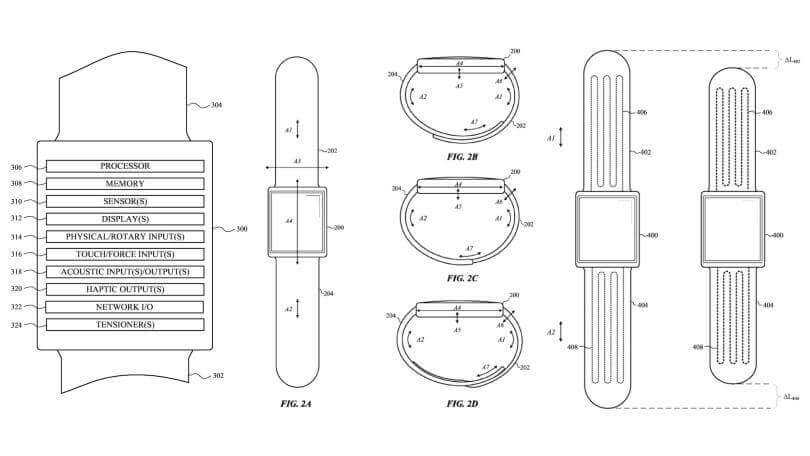 Unlike losing a headphone jack on smartphone watch wearer may actually appreciate losing a fastening clasp on their on their smart timepiece. Instead, Apple is proposing the use of tension er to "control one or more actuators that are mechanically coupled to either the housing or to a band attached to wearable electronics device". The advantages of the system beyond convenience is better fitting watch bands. Because the adjustment is much more fine-grained it will fit better regardless or wrist size.
The final implementation of tensioning system has yet to be decided with patent suggesting several methods including memory wire, internal ratcheting, or fluid bladder. As this is Apple, the thickness of the band will need to be kept to a minimum and that will certainly heavily influence the decision of which solution to be used. The self adjusting bands will use a predetermined set of criteria to activate the adjustment. So the Apple watch will sense somehow that it has been placed on your wrist and proceed to tighten. Bio metrics will surely play a part in that process. User adjustment will also be key and handled through the Watch touchscreen interface.