About Reliance Jio Infocomm Limited
Reliance Jio Infocomm Limited ("Jio"), a subsidiary of Reliance Industries Limited ("RIL"), has built a world-class all-IP data strong future proof network with latest 4G LTE technology. It is the only network conceived and born as a Mobile Video Network from the ground up and supporting Voice over LTE technology. It is future ready and can be easily upgraded to support even more data, as technologies advance on to 5G, 6G and beyond. Jio will bring transformational changes in the Indian digital services space to enable the vision of Digital India for 1.2 billion Indians and propel India into global leadership in digital economy. It has created an eco-system comprising network, devices, applications and content, service experience and affordable tariffs for everyone to live the Jio Digital Life. As part of its customer offers, Jio has revolutionised the Indian telecom landscape by making voice calls for Jio customers absolutely free, across India, to any network, and always. Jio makes India the highest quality, most affordable data market in the world so that every Indian can do Datagiri.
The network started public operations in September last year, though it was available to a closed group of users for a few months before that."Jio envisages to usher in the era of 'visuality' where video will replace voice as the new communication medium…Jio has so far filed 54 global patents," said RIL's annual report for 2016-17.
The firm after a flying start last September with consecutive free promotional offers that saw the telco notch up more than 100 million users within 170 days, has seen its subscriber addition dip in the last few months. The Ambani owned firm's launch has led to price wars in a sector reeling under a debt of Rs4.6 lakh crore and forced the top players Vodafone India and Idea Cellular announcing their merger.
Reliance Jio Files 54 Global Patents
Reliance Jio, known for its aggressive data and voice offerings, filed a total 54 global patents during 2016-17. Reliance Industries Limited (RIL), in its latest annual report, said its telecom venture has been a catalyst in India's digital ecosystem and that data consumption on Jio network is "higher than the total mobile data consumption in the US, and twice that in China".Jio envisages to usher in the era of 'visuality' where video will replace voice as the new communication medium… Jio has so far filed 54 global patents," said RIL's annual report for 2016-17.
Exuding confidence that Jio network is "future ready" and can be upgraded as technologies advance to 5G, 6G and beyond, the report said that the company is working towards expanding its reach to over 95 percent of population coverage by the end of the year.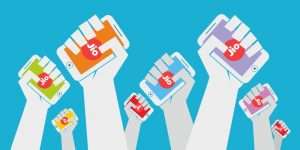 Best part of this!
• Reliance Jio filed a total 54 global patent during 2016-2017.
• In the United States, data usage is higher than the total mobile data consumption.
• More than 1 million geo users have more than 1 billion gigabytes of consumer data.
What's new!
The telecommunications operator is in the news of keeping his VLT feature phone in wings and for the company it is expected to be the next game changer. This is important because this feature phone is with its low price point, which will help subscribe to Telco, which cannot afford the Smartphone.
The report says that unlike their competitors, the operator had simplified tariff structure with less than 20 schemes against 22,000 + tariff plans prevailing in the country. According to this plan, the circles are specific schemes in the entire plan and have been prepared to fit every budget. In all tariff plans, voice services (local calls, STD and national roaming) will be offered free of cost to all their customers.
The promoter firm said that in addition to the leading tariff plans of its own market, Geo will also give its customers the option to opt for the highest selling fee scheme of any other leading Indian telecommunications operator, but with 20% more data than the other, Offers
Current mobile broadband coverage in India has increased by almost 75% in the US. And the goal is to reach 95% within the next one year. Reliance Industries said that per consumer data consumption in India is far below the global average, but more than 100 million customers of JIO consume 10 GB / month / user, this is the highest consumption of mobile data per capita in the world.